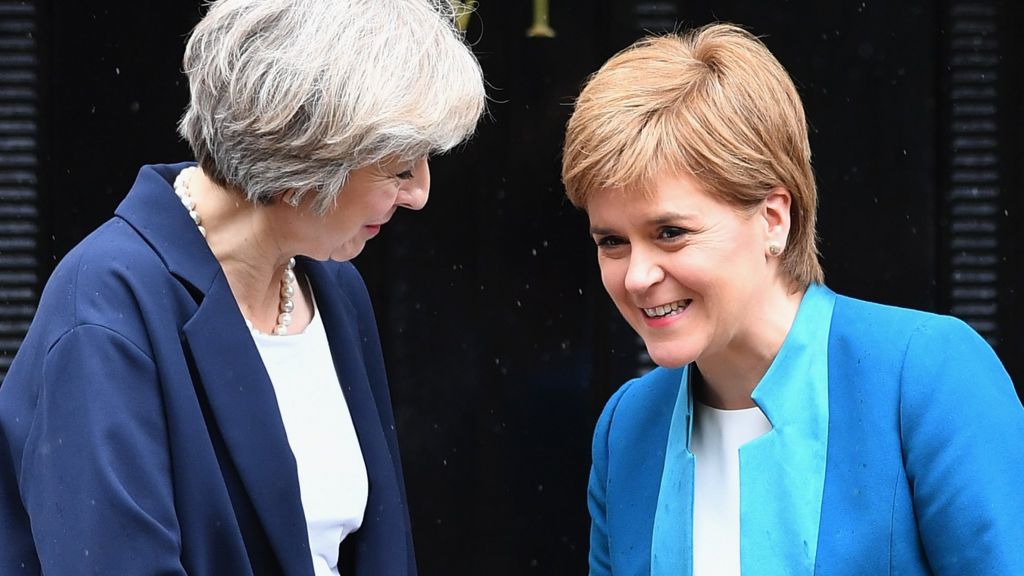 Leaders of the devolved governments in Scotland, Wales and Northern Ireland are to press for a greater role in Brexit negotiations when they hold talks with Theresa May in Cardiff.
The Scottish and Welsh governments have produced plans that would allow them to keep full access to the single market.
However, they say they have not seen any signs that the UK government is taking their proposals seriously.
Mrs May has warned that they "will not agree on everything".
The UK prime minister will later continue to Dublin for talks with Taoiseach (Irish Prime Minister) Enda Kenny.
Mr Kenny has called for the maintenance of the current "seamless border" between Ireland and Northern Ireland, after the UK leaves the EU, amid fears that a "hard Brexit" might reimpose controls on movement and trade.
Ahead of Monday's talks in Cardiff, Scottish First Minister Nicola Sturgeon said that time was running out for the prime minister to "heed the voice of Scotland".
She said the meeting would be one of the most important since the EU referendum.
"It comes at a crucial juncture, with the clock ticking down to the triggering of Article 50 and with, so far, no sign whatsoever that the UK government is taking Scotland's position remotely seriously," Ms Sturgeon said.
"The JMC (Joint Ministerial Committee) meeting in Cardiff is another chance for the prime minister to heed the voice of Scotland and those of the other devolved governments – and she must take the opportunity to do so."
Monday's agenda includes proposals for alternative settlements for the devolved administrations as well as ideas on helping British businesses to trade and invest in the run-up to Brexit.
Also attending the talks will be Sinn Fein leader Michelle O'Neill, who accused the UK government of trying to impose Brexit against the will of the people in Northern Ireland and in Scotland.
"The Tory government have effectively set aside the democratic process to pursue their own narrow political agenda. We need all of those opposed to Brexit to stand together," she said.
"I will lay out the reasonable and achievable objective of the north being designated special status within the EU."
Welsh First Minister Carwyn Jones called for "open and frank discussions" and said he would call on Mrs May to uphold pledges made during the referendum campaign that Wales would not lose funding as a result of the UK leaving the EU.
Mrs May has already highlighted that the Supreme Court had set out …read more
Source:: BBC UK